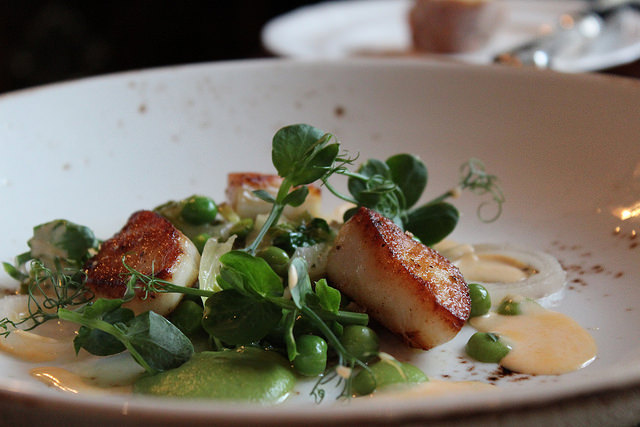 I first visited Greywalls almost a quarter century ago. An impromptu stop-off during a family 'magical mystery tour' drive of East Lothian left memories of an imposing driveway, a beautiful country mansion and flowerful walled garden. As The Silver Fox and I recently approached the hotel, situated right next to Muirfield Golf Course, those first impressions were all the more special in the context of being our first night away together in an awfully long time!
Greywalls is an esteemed 5 star venue, with championship golf, the surrounding landscapes and  comfortable luxury all being notable draws. Add in the allure of their restaurant, watched over by legendary French Chef Albert Roux, and you have destination dining right there.
The Lutyens-designed property, has the comfy feel and layout of a house that was originally designed as a private family home, albeit a rather grand one! Our ridiculously roomy corner bedroom was a lovely blend of traditional and modern; split-new bathroom, olde-worlde fireplace, and period furniture. The views of the golf course and Firth of Forth, the icing on the cake.
Cocktail hour was invented in places like this, and so it seemed perfectly fitting to sip a classic gin martini whilst we nibbled on tasty canapés in the bar. Through in the dining room, The Roux 'brand' is a presence throughout, from framed photos for the great chef to bespoke plateware.
To start, the Albert Roux twice-baked cheese soufflé and Isle of Skye scallops were easy choices. The soufflé as creamy, light and fluffy as you'd ever hope, surrounded by a melty, unctuous Gruyère 'soup' to mix it in to. A trio of seared (ever-so-slightly overdone) scallops were presented on a beautiful stoneware plate, accompanied by sweet green peas, braised baby gem, delightfully sweet onion and a buttery champagne velouté.
The main courses displayed perfection in execution, seasonal Scottish ingredients given the classic French treatment. John Gilmour fillet of beef was flavoursome from the right amount of caramelisation on the outside, tender pink in the centre, served with a dainty potato terrine fondant, chanterelles, other savoury, woody wild mushrooms, and  creamy sauce Béarnaise.
Main of roast fillet of hake showcased perfectly why this is such a popular fish. Served with a beurre noisette the flaky white fish was spiked with bright flavour pops from briny baby shrimp, pickled cucumber and salty samphire.
After a sensible short break, desserts arrived for a spectacular finale. Another signature dish, the Albert Roux classic lemon tart boasted textbook-thin crust, and brought together citrus notes with caramelised orange purée and a ice cream.
Special of the night was a picture-perfect chocolate fondant, replete with oozy centre, atop crumbly chocolate soil. A softly flavoured coconut sorbet might just have been the star of the show, bringing those Bounty-esque flavours together. Suffice to say, the kitchen's pastry section are a talented bunch.
Breakfast the next morning is a classy, relaxed affair. An array of cereals and juices from the buffet and a classic selection of cooked plates are offered to satisfy all. The Silver Fox enjoyed his 'Full breakfast'; full being the understatement! Peelham Farm sausages, best quality back bacon, and two cheery sunny side ups. My Eggs Benny was a more refined take on the usual, with rolled out toast rounds, instead of the usual buns and tasty dried baked ham rather than oily bacon. The Hollandaise on the soft poached eggs was delightful, but I missed the classic English muffins.
It goes without say Greywalls is priced in the upper echelons of the 'short break' world, but with its unique location, delectable dining and superior, friendly service, it's absolutely made for special occasions. Make up any excuse; it's worth it!
Greywalls Hotel & Chez Roux
Muirfield
Gullane
East Lothian
EH31 2EG
Tel: 01620 842 241