Being a part-time Dunbar resident these days, I was pretty excited when I read about a new one-day festival that's taking place in the town's Lauderdale Park on Saturday 3rd September. Daytripper promises a full day's line up of music, from local acoustic, pop and1 and folk acts to the…DRUM ROLL…headliners Idlewild, who'll close the show on the Saturday night.
The family-friendly event sounds perfect for my adopted seaside home town, a place that's no stranger to day-trippers, twelve months of the year. A big draw will also be some delicious eats, including inclusive (vegan, gluten-free and all) treats from the team at NoCowKnowHow, who also run the cute little café at Lauderdale Park. There will be a focus on East Lothian based producers and street food. Meanwhile drinks from Thistly Cross will also be on hand to keep thirsts abated with their range of (let's be honest, outrageously) tasty ciders. Local brewer Knops Beer will also feature – it would be great if they're doing a special light festival beer for the event.
I've been a huge fan of Idlewild for years, but it's a while since I've seen them live, so I'm really looking forward to getting a chance to hear this exclusive semi-electric set at the festival. I suspect the acoustics around the park's stone walled garden will be amazing. Warnings and promises of a good night are guaranteed!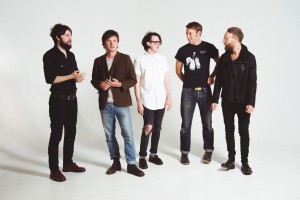 This sounds like a brilliant event for Sunny Dunny- bring on the blue skies and good times.
Tickets are priced £27 for adults, £10 youth, and free for under-fives. Tickets can be bought online here and at www.dunbardaytripper.co.uk