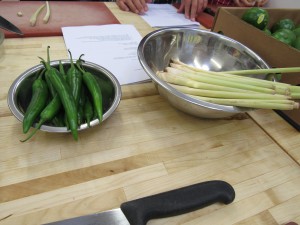 Back in July, I was invited to the Edinburgh New Town Cookery School as a guest for a day at their Vietnamese Cookery course. I've been lucky enough to have visited the school a few times before for different events and tastings, and knew that a great day was ahead. We arrived sharp-ish for a nice cuppa, and particularly nice shortbread, whilst Colette our host and chef mentor for the day gave us the briefing and ran us through some safety tick lists.
I am a massive fan of Asian cuisine in general , and this was the first time in a while I'd focused properly on what Vietnamese food actually is. A lot of it is familiar, in terms of flavour profile to Thai food – so limes, coriander, lemongrass, garlic and chilli feature a lot. But there are also some slightly different accents, a lot of them influences from the time Vietnam was a French colony. Banh Mi is the classic example of this. Baguette, pâté, but served with all those aromatic punchy flavours you'll expect from the far east.
The day was a good test for knife skills, as there was a pleasing amount of chopping to do. And believe me , the smells from all those fresh limes was amazing. The Vietnamese also use a lot, or should that be a LOT of fish sauce, so that funky umami is a present flavour a lot too. The herbs they use are an interesting mix. Thai basil and coriander, plus mint, so everything really is gorgeously fragrant. We also did some nice veggie ribbons (carrots & mooli) with a peeler and put them in salads and garnishes.
We made and of course very importantly tasted several dishes throughout the day including Pho, the traditional hotpot style soup, summer rolls with rice wrappers which are uncooked and wonderfully fresh. The funny little Banh Xeo coconut milk and cornmeal panckaes which we prepped at the school and cooked at home were a little 'soapy' tasting to me but all the accompaniments were lovely. Crisp veggies and tonnes of flavour.
One of the highlights of any day at the Edinburgh New Town Cookery School is the lunch, where we got to enjoy our mega- Banh Mi baguettes with pork tenderloin, and some very good crisp spring rolls which Colette had prepped for us. The chat was relaxed and fun (oh, and a lovely glass of white was the perfect accompaniment) and it was nice to talk to all the different people on the course. So many different reasons people had booked on – a father/daughter bonding session, a birthday present, a lady who was married to a chap from Vietnam and wanted to impress the in-laws- it's a terrific gift to give to someone, or of course for yourself.
The school runs all sorts of brilliant cooking classes, from the classics, to global flavours to more intensive full on training. It's a really well run place and superbly located right in the middle of Edinburgh. Just make sure you remember to take LOTS of tupperware home with you, as they are very generous in the measurements. We had enough for a delicious family feast for 4 that night.