As the dust settled on a spectacularly quiet hogmanay in the flat, I did set myself one challenge for 2015 and that was to get in to my cookbooks a little more than I have of late. I have a pretty varied repertoire (a lot of Asian food, North African and Middle Eastern and favourites like spag bol and soups) but everyone needs a little injection of inspiration from time to time. I grabbed my Jamie's America book off its perch (where it had languished, I reckon, for at least a year since last opening) and had a gander. The TV series from a few years back was great and the accompanying book just as good. Recipes for lots of fresh Mexican dishes, BBQ, soul food, Cajun, and Navajo dishes. I chanced on a recipe for a one-tray chicken dish which brined the meat, had sweet potatoes and cream and basically sounded like the best dinner ever for 1st January. Creamy, sweet, savoury, really hearty stuff perfect for a winter's eve.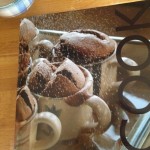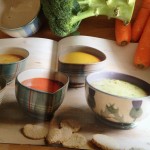 So, my cookbook challenge is ON! As this is also Scotland's Year of Food & Drink I thought I'd tie this in with a very gorgeously Scottish Cook Book which Anta released towards the end of last year. They were kind enough to send me a copy and I thought it would be a great prize to pass on! It features fantastic recipes using Scottish ingredients and all are photographed using their iconic stoneware ceramics. I have a copy to give away and all you have to do is tell me your favourite 'Scottish' recipe. It could be an old favourite handed down from your granny, or something a bit more contemporary using fresh Scottish produce. I'll keep the competition open until the end of February and announce the winner at the start of March. 
Oh, and you can keep up with what's happening events-wise for Scotland's Year of Food & Drink via the #tastescotland hashtag on Twitter.
Email your entry to  me via leilappetit (at) gmail.com .
Good luck!
Terms & Conditions. 
The competition will run from Monday 5th January to Saturday 28th February at 5pm. The winner will be announced by Friday 6th March. The prize is one copy of the Anta Cookbook. No cash alternative is available. The winner will agree to have their recipe posted on the blog www.leilappetit.com For any queries please email as above. Thanks!