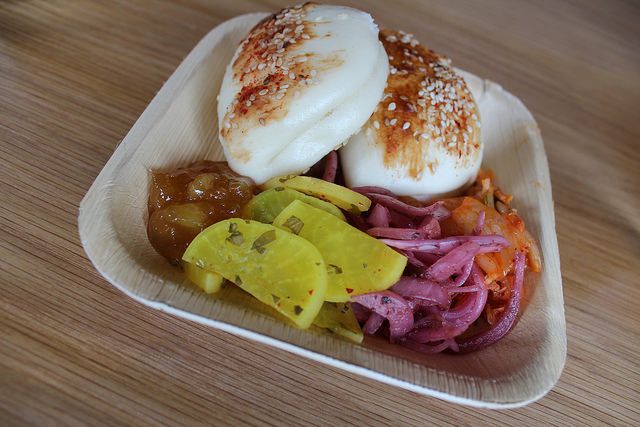 Our lunch in the Apex last week marked the second time I'd been lucky enough to eat Tony Singh's food. A few years back, The Silver Fox & I celebrated an anniversary with dinner at Tony's sadly departed Oloroso restaurant. A combination of sunny July evening, exquisite food (the fish, the lightly spiced fish….) and romance put it high in the memory box of 'top nights'. For us Edinburgers and all you visitors to our fair city this month, I've got some good news; Tony's back in town and his Road Trip is a joyous,  and delightfully affordable affair. If you're wandering around the city at any point in the next couple of weeks and are contemplating where might be good to pop in to for a 'bite to eat', may I (if I may be so bold) steer you in the direction of The Apex International in the grassmarket? Tony's taken over the asylum  kitchen for the duration of the festival. Working and running with the hotel's kitchen & front of house team, Tony and his temp company will be serving up some funky street food daily from 12noon to midnight.
When faced with a menu that was almost showing off with a 'greatest hits' of international street food faves, it's understandably challenging to pick what to order. Thai, Korean, Indian, Mexican….? Too many goodies to pick, quite frankly. Luckily, The Fox and I were in sharing is caring mode and so we managed to get a few 'stamps' in our passports as we ordered. The atmosphere during our lunchtime visit took a wee minute to warm up, but once the tunes were pumping out and the place filled, it was fun fun fun. Food comes out when it's ready, so our first plate was the steamed buns with pickles. Sprinkled with sesame seeds and togarashi, the little buns were puffy and mallow-light. The accompanying selection of pickles included sweet daikon and a spiced kimchi, as well as a sweet chutney.
Not ordering curry of the day from this guy's menu would have been a mistake, we thought, and the pork and beans number was well-rounded and aromatic. Loads of warming spices like cinnamon and cloves kept the chilli heat balanced. Accompanied by cumin rice, fresh roti bread and some pickles this was a full meal in a bowl. The highlight of the savouries is a bit of a fight between the Korean Burrito and the Gaucho Flat iron steak with chimmichuri. Wafting through the restaurant we smelled the steak as it hit the grill through in the kitchen, and I defy any carnivore in the room not to have gotten a very real 'pang' of hunger at that point. The flat iron is a slightly more sinewy cut of the beef, and keeping the large chunk allowed for high heat grilling whilst keeping it ultra tender inside. The herbaceous and zingy green chimmichuri was a flavourful match for the beef itself, again with a decent bit of heat! Top stuff, all the more fun eating it off bamboo plates with plastic knives & forks! The Korean burrito was perfect. The massive chunk of haddock that filled the burrito was 'brite-white', so fresh and sweet it still held its own against the house-made kimchi. We were lucky to have a quick blether to Tony (thanks for popping out of the kitchen, Chef!) towards the end of the this 'phase' of the meal, and he specifically asked what we thought of that burrito. Not surprised, he should be rather chuffed with coming up with that one!
Understandably there are a good few nods to India on the menu, and Tony's Flooda (or Falooda) drink was a new one on me. A real mash-up, with ice cream, jelly, coriander seeds are the black things you see. In all, a weird & wonderful, sweetly satisfying drink-desert combo! The churros were by far the best I've ever had. So many times I've ordered these and they reek of some stinky oil that's been used for too long and have the distinct flavour of fish. These were crisp on the outside, soft in the middle, generously sprinkled with cinnamon sugar and came with a salted caramel sauce and also a chocolate one. There was something 'extra' in the choc sauce, can't quite put my finger on it, but perhaps some chilli and cardamom? It added another flavour dimension beyond the plain dark chocolate and was finger-dippingly good.
To call Tony Singh a flavour maestro is an understatement. Road Trip is a little bit kitschy, affordable and fun. More than that it's a chance for a world-class chef to have a ball in the kitchen; this guy loves making things delicious, it's as simple as that. Pretty cool too that the team at the Metro restaurant get to work on the project for the month. From kitchen to front of house, it'll be a brilliant learning experience for all. The only rubbish bit of this whole thing is that I'm going away for pretty much the whole festival this year, meaning I don't think I'll have a chance to try more of the menu another day. It makes me sad. But it's the least I can do to share how good it is and encourage you to pop along for lunch, a snack, dinner or a post-boozy festival night face-stuffing!
Dishes priced between £4.95 & £10. More info here http://www.apexhotels.co.uk/en/offers/tony-singhs-road-trip/ 
Thanks to Wire Media for the invitation to lunch!