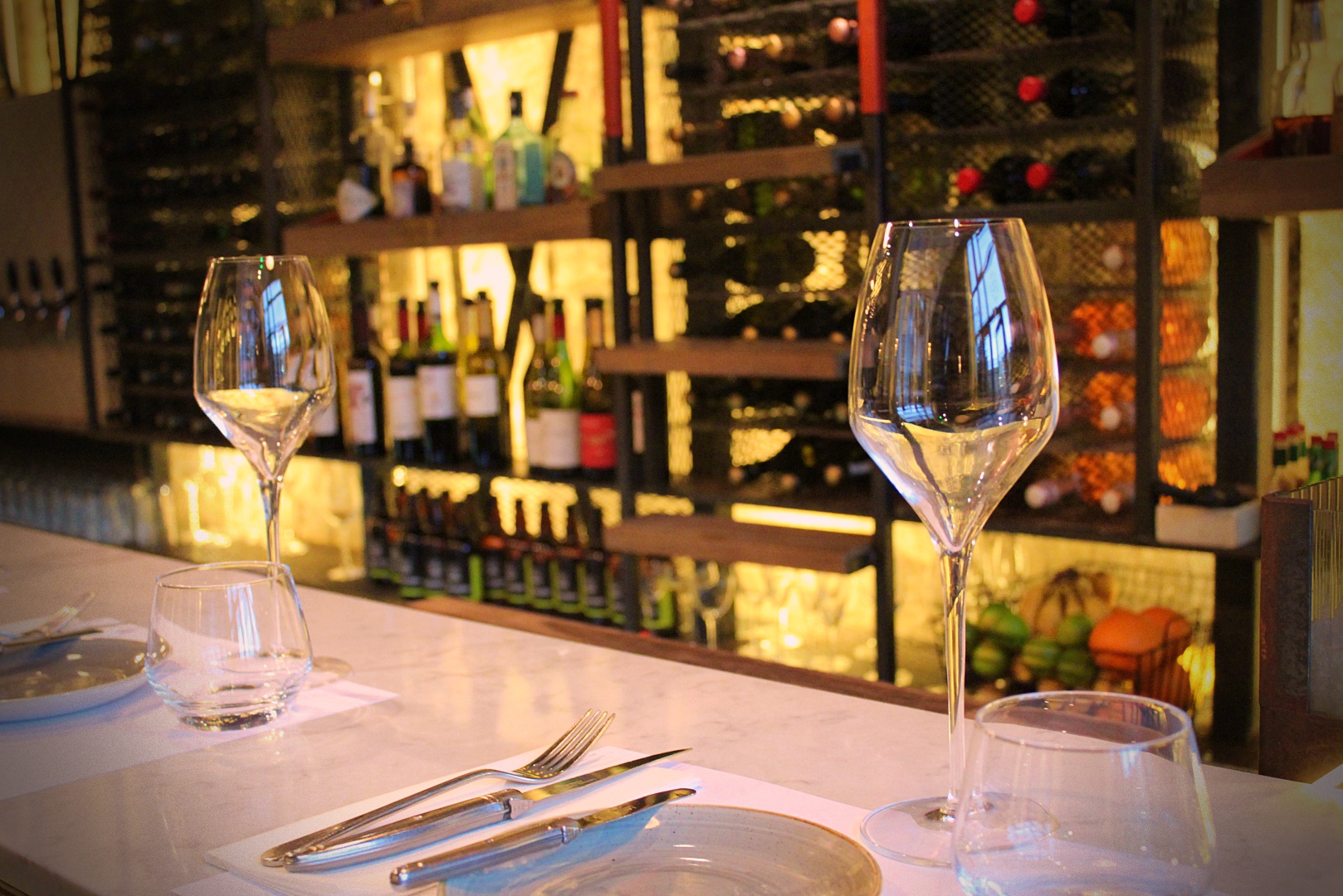 Seminal moment of parenting No. 345: that time we took our four year old son out for lunch and he determinedly ignored his kids' burger in favour of tucking into my (on the perfect side of rare) steak.
Well, that's what happened last week when we ate at Chop House's swank Market Street venue, tucked just behind Waverley Station in the former railway arches. In the midst of cellar excavations at the house and all its associated dusty fun, a steak lunch date had been set for The Silver Fox, the Fox Cub and myself.
The weekday £12 Hanger Steak & Fries lunchtime deal was the draw, truly an impressively good price for the quality of meat Chop House restaurants are known for. We headed up to the upper floor of this stunning double-height venue, and settled in for what was top class comfort food on a rain-soaked Friday afternoon.
Whilst I'd say that Chop House restaurants have a decidedly upmarket vibe, it's good to know they're kid-friendly too. The Fox Cub's eyeballs just about popped out on stalks when his requested apple juice was brought to the table in an impressive, instagram-worthy fashion; served in a milk bottle with striped paper straw and cotton candy garnish. Kudos guys. On form, he was also very enthusiastic about helping us tuck into the enticingly pungent garlic and herb marinated Gordal olives, and the crusty sourdough and herby butter.
Now, I should really cut to the chase. How was the steak? Well, as the name suggests, Chop House take their meat seriously, and the mantra is solidly about sourcing top quality meat, in-house butchery and expert dry aging. Their steaks are open-flame charcoal grilled, and so, when our steak frites arrive at the table, that lean cut of hanger steak had a perfectly blackened char on the outside, and with perfect resting time had been sliced to deliver utterly tender, flavoursome mouthfuls of beef. The words 'Oh my god' might have been said a few times. Paired with a tangy Bearnaise, and crisp straw fries, this was a belter of a lunch.
Hesitance to share with my offspring was assuaged somewhat by the supporting act of side dishes including a blow-your-socks-off (and clear your sinuses whilst you're at it) chilli-spiked kimchi slaw, crisp onion rings, and sweet buttered greens, the latter of which was victim to slightly too much artistic flair in the salt department, but delicious nonetheless.
We rounded things off with scoops of ice cream, of which the creamy coconut and the classic vanilla were winners. Whilst the Leith Chop House is our local (their whisky cocktails are nothing short of epic), the Market Street venue has incredible appeal, not in small part due it its quirky architectural features and impressive view of Calton Hill, well on a less rainy day than when we visited.
And what of that burger the little guy forgot about eating in favour of my steak. We had it perfectly wrapped up to take home. Thanks guys!
We dined as guests of Chop House but as always, thoughts, opinions and full belly are the reviewers own.