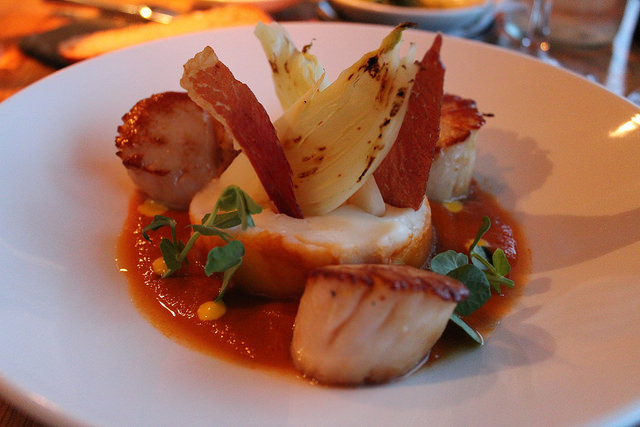 When Tower Restaurant opened in 1998, Edinburgh's restaurant scene was morphing. A new wave of bistros and gastropubs was arriving. Testament to its staying power then that The Tower, most definitely in the fine dining camp, has stood its ground and the test of time. Not to say there haven't been changes. At one time a little formal and fussy, this visit revealed a restaurant in its stride, with a choice of table d'hôte or à la carte menus.
Following a citrusy Lady Marmalade cocktail, some olives and crusty bread, we launched into three courses of stonkingly good food. Hand-dived scallops (an eye-wateringly pricey £17.95) were clearly the star of the show on the starters front and they did not disappoint. Three plump (dare I say delightfully chubby) golden seared mollusks shared the plate with crisp shards of saliferous ham, charred fennel, mashed potato and a palate-embracing bouillabaisse sauce with deliciously sweet and smoky notes from paprika. A swell contrast then was the 'Cockburns of Dingwall' haggis dish (£10.50), presented within a cigar of crisp filo pastry and served with a riff on piccalilli, featuring pineapple and the faintest hint of curry. Sounds odd but it complemented the meaty haggis admirably.
Mains courses showed that Head Chef Jose Dalto seems to have a deft hand in allowing items from Scotland's pantry shine. Tender East Lothian grouse (£29.50) breast was wrapped in Ayrshire bacon, a salty note offset by sweet celeriac purée, earthy chanterelles and pickled red cabbage and kale. With its autumnal hues, this was 'seasonal' exemplified. The Perthshire Lamb Rump dish (£31.95) had two plump, pink slices of meat and an accompaniment offering a rhapsody in green. Asparagus, tender-stem broccoli, little gem and a hint of bacon made this the kind of presentation of veggies that would have anyone chasing around that last pea from the plate.
Our inner ten year-olds and current selves were also delighted by our respective puds. A smooth sweet-salty peanut butter parfait (£8.50) with salted caramel popcorn for me, and an outrageously luxurious Banana Split (£7.95) for The Fox with a trio of home-made ice creams, toasted nuts and maraschino cherries. Tokaji dessert wine, coffee, petit fours all enjoyed to round off the evening; the only thing lacking was a comfy bar area to book-end the experience.
Review from October 2015's Bite Magazine