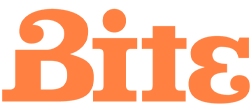 This review appears in the October edition of Bite Magazine , and can be found online here. 
Trying to separate memories of childhood from sweeties can be harder than a soor ploom. A day trip to Peebles and liquorice comfits in the car, chocolates at Christmas, toffees from Granny. Learning how to be independent, managing your pocket money, filling up a paper bag with 10p mix.
 The word retro in the context of sweets is a tricky one, as it suggests a different era, depending on when, and of course where, you grew up. Amazingly, Lickety Splits on Jeffrey Street manages to stock such a variety that they've pretty much got all bases covered.
 New owners Katrine and Naomi took over the shop about a month ago, and have already put their mark on the fun space, just a hop from the Royal Mile. From the flamingo wallpaper, toys, handmade cards & gifts for sale, and, of course, jars of bright confectionery, it's a place where a note-perfect 'kid in a candy store' fantasy can be lived out.
 The shop is filled with those evocative sugary smells. Katrine says the best bit is when someone wanders in with an 'I've been looking everywhere for …' and she can promptly turn around to produce that longed-for taste of days gone by. In case you're wondering, yes they stock the mythical Chelsea Whopper.
 A look at the variety of sweets shows how flavours and trends change over the years. Bonbons,  jubejubes and boiled sweets from an older vintage. Tasty remnants of the 1960s space race with flying saucers, and astro belts. Katrine also offers a taste of her native Denmark with a selection of liquorice sweets fromScandinavia.
 The Scottish contingent will be delighted to find tablet, rhubarb rock and various sherbets. They also have Lucky Tatties, a chunk of fondant dusted with cinnamon. Erk. Mum remembers them as Tobermory Tatties with the tiny plastic toy you used to get inside, no doubt phased out these days for 'elfin' safety!
 My early childhood can instantaneously be recalled with a handful of peanut-buttery Reeces Pieces. For other people it's crunching through a pack of soapy Parma Violets, slowly savouring a bar of Fry's Chocolate Cream, or sharing a 'quarter' of foam shrimps and cola bottles with a friend. Whatever your particular sweetie of choice, in Lickety Splits, the sweetie shop is back. Just don't tell your dentist.